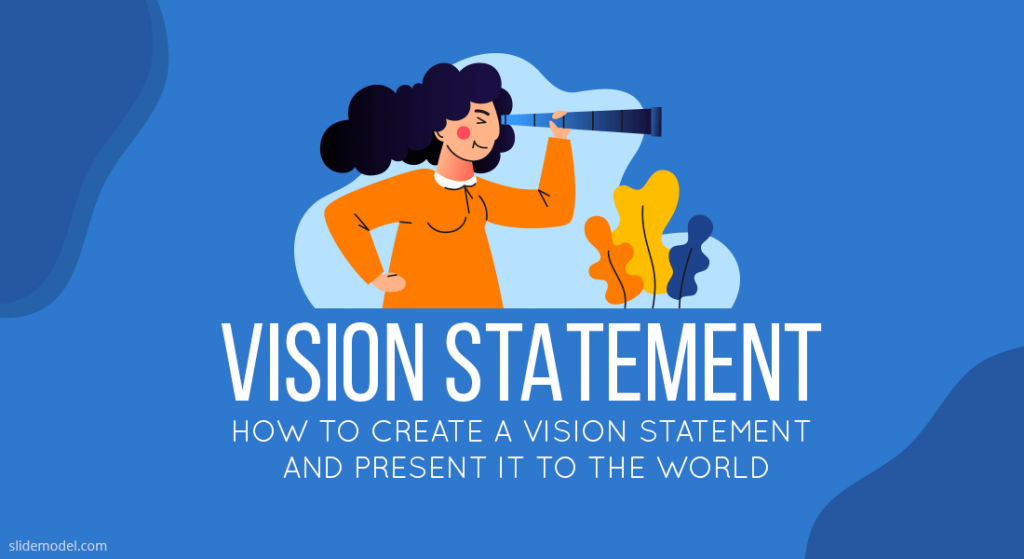 If you are running a company, at some point you are going to need to present your vision for it. That means explaining to others why you are doing what you do and which things you aspire to pursue in the future. In short, that's the purpose of having a corporate vision statement. In this post, we'll examine why a powerful mission statement is a defining characteristic of the most innovative global companies, what is the purpose of creating one, and how you should approach the writing and presentation.
What is a Vision Statement?
A vision statement is a future-oriented, idealistic summary of your company's goals. This corporate document is intended to help rally the workforce around the shared goals and helps the company formalize its differentiated position among the competition. Additionally, vision statements double as a tool for actualizing the company's potential impact on the world.
A vision statement attempts to answer the following questions
Where do we aspire to be in the future?
What problem are we solving for the greater good?
What sort of change are we promoting?
Mission Statement vs Vision Statement — What are The Differences?
The two terms — vision and company mission statement — are often used interchangeably by business leaders. However, they stand for someone different things.
A vision statement is more future-oriented and focuses on communicating what the organization wishes to become in the future.
Mission statements are more rooted in the day-to-day work and showcase what the organization already does.
Companies need to have both types of documents because execution without a grander vision, rarely leads to truly big results.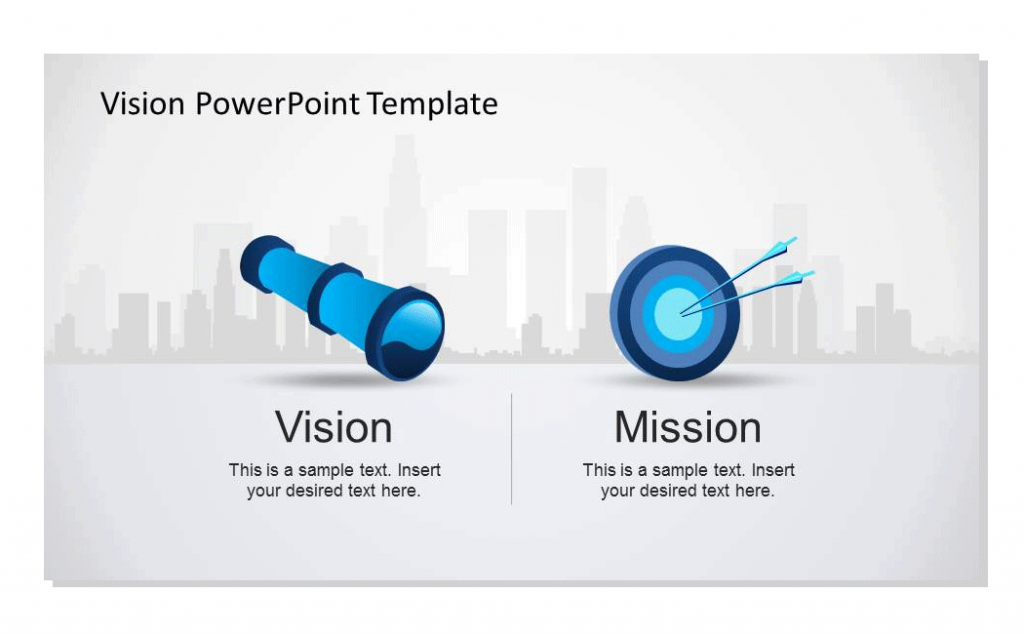 Mission and Vision Statement Template by SlideModel
The Purpose of a Vision Statement.
Vision provides a focus for teams and encourages innovation. A company with a strong vision understands how success looks for them and can adjust its day-to-day actions to reach that state faster.
A company vision statement codifies those aspirations so that it's easier to communicate them to both internal and external stakeholders.
Internally, vision and purpose statements serve as a powerful tool for motivating and engaging the employees. As PwC data suggests, in companies with clearly defined and communicated value and visitation statements employees tend to be:
63% more motivated
65% more passionate about the work they do
Also, 90% of such purpose-led companies tend to drive growth and profits at or above the industry average.
Gallup data also suggests that there's a direct link between employees' understanding of their company's identity and important corporate KPIs. A 10% improvement in the connection between employees and the mission or purpose of the organization could result in:
12.7% reduction in safety incidents
8.1% decrease in turnover
4.4% increase in profitability
Finally, a vision statement also serves as a strong differentiator for brands. Your vision statement facilitates communicating your position to business stakeholders and reassures them that you are steering the business in the right direction.
How to Write a Vision Statement in 3 Steps
Vision statement sounds like a lofty, somewhat pretentious document, right? But that's only on the surface level. In reality, a company or project vision statement is a compact summary (about a paragraph max) of the core company's activities and aspirations.
Here are three core steps to help you write one:
1. Prepare
Most leaders do not include many people in the process of defining their company's vision, purpose, and direction. That's a big mistake since homogenous groups tend to be less creative and more prone to various cognitive biases.
That's why it's best to involve more than just the leadership in the creation of your mission statement. By involving people at different levels in meaningful visioning sessions you can uncover new perspectives, ideas, aspirations, causes to pursue. What's more important, such sessions can help determine where your people (and organization respectively) currently excel.
That's an important bit of knowledge because leaders who are focused on leveraging their teams' strengths experience:
14% to 29% increase in profit
3% to 7% increase in customer engagement
9% to 15% increase in employee engagement
2. Brainstorm
To make the most out of each visioning session, keep it structured and standard. The most productive way to lead such discussions is by posing the following questions to every group of participants
What ultimate impact do we want to have on the community, the industry, or the world?
How would you define or business culture? How does the company make you feel in your day-to-day?
What type of 'unfair advantage' do we have when compared to the competition?
How do we plan to improve the lives of our customers?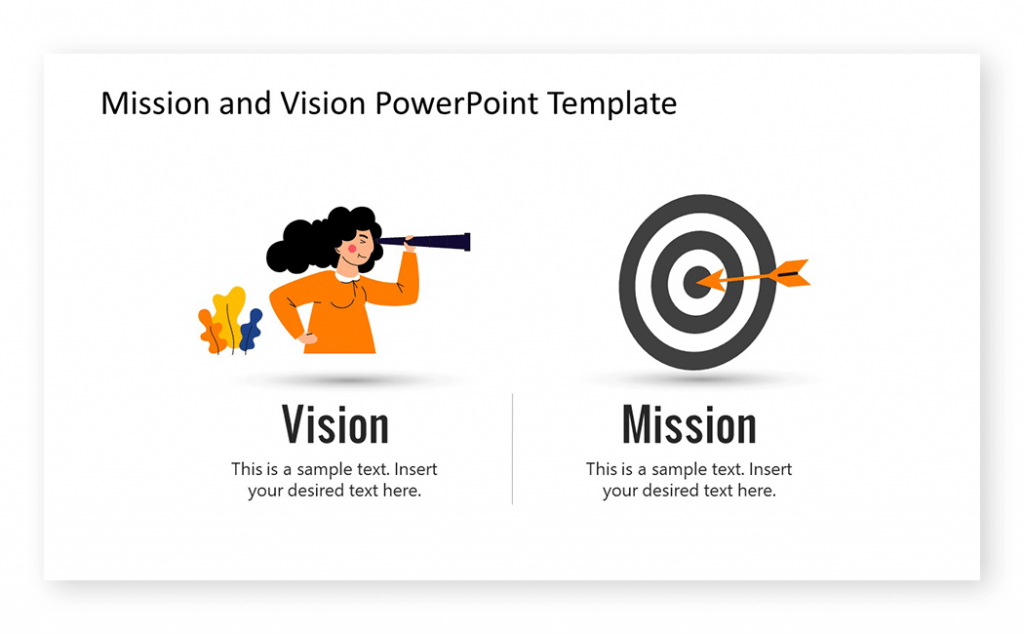 Source: SlideModel.com
Look for recurring replies and themes in the teams' answers. Analyze how the voices out suggestions align with your core company values and current mission.  Formalize a set of goals and core company purpose(s) to work with.
3. Write and Reiterate
Take all the ideas from the brainstorming sessions and try to formalize them into a set of sample vision statements. Be conscious and on-point. Aim for two to four full sentences.
In each statement aspire to be:
Visionary/inspirational
Future-oriented
Challenging
Share that preliminary set of vision statements with your team(s) and ask for their feedback. Then reiterate and punch-up the best-rated ones. It's alright if you don't arrive at the perfect vision statement from the first attempt. Settle for a 'good enough' option that appeals the most to your people and get back to the writing board later on when your corporate priorities evolve once again.
Vision Statement Examples
Need some inspiration to get going? Here are vision statement examples from well-known companies:
Amazon Vision Statement
Our vision is to be earth's most customer-centric company; to build a place where people can come to find and discover anything they might want to buy online.
Apple Vision Statement
"We believe that we are on the face of the earth to make great products and that's not changing. We are constantly focusing on innovating. We believe in the simple, not the complex. We believe that we need to own and control the primary technologies behind the products that we make and participate only in markets where we can make a significant contribution."
The above version was shared with the Apple investors in 2009 by Tim Cook, then COO.
Nike Vision Statement 2021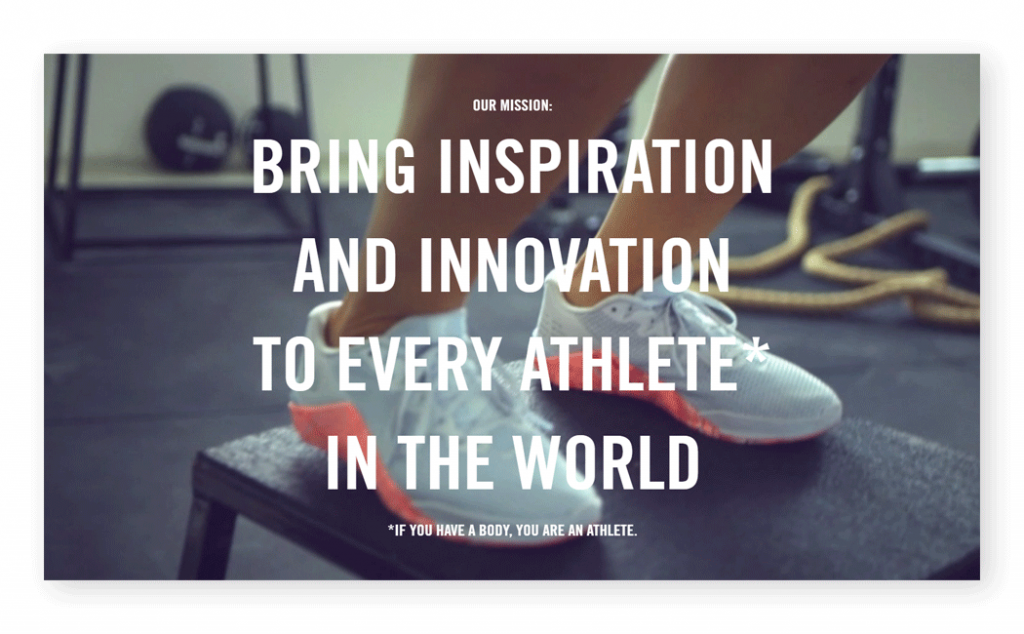 "Bring inspiration and innovation to every athlete* in the world.
*If you have a body, you are an athlete."
Google Vision Statement 2021
Our mission is to organize the world's information and make it universally accessible and useful.
Starbucks Vision Statement
To inspire and nurture the human spirit – one person, one cup, and one neighborhood at a time.
Tesla Vision Statement 2021
Tesla's vision in 2021 is to:
Create the most compelling car company of the 21st century by driving the world's transition to electric vehicles.
How to Present Your Vision to an Audience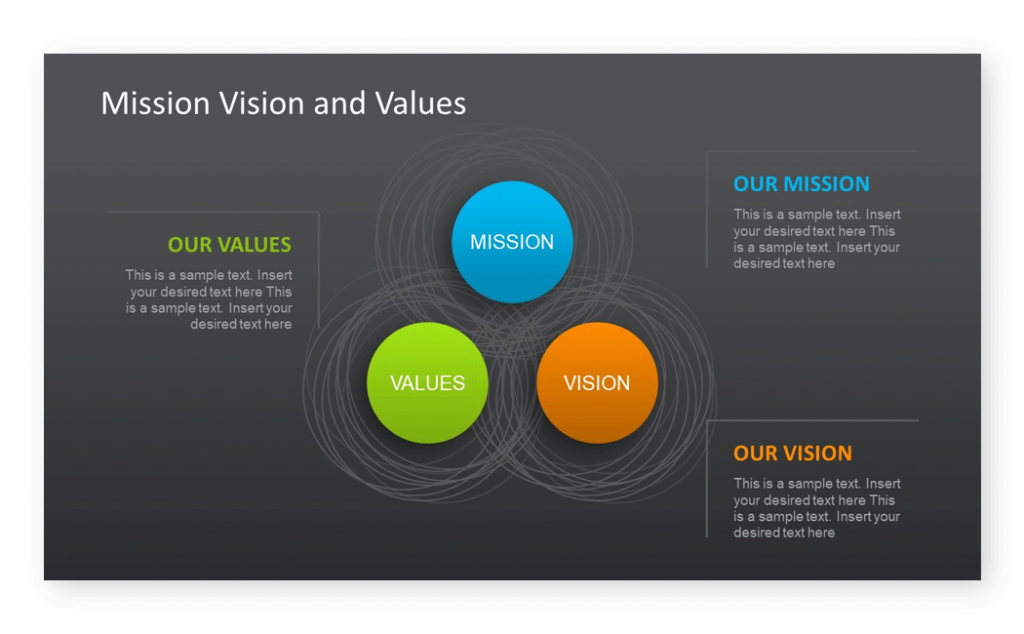 Mission, Vision, and Values Slides for PowerPoint by SlideModel
A purpose statement has a dual purpose:
Articulates the company's goals
Motivates the employees and other stakeholders
In this section, we'd like to focus more on the latter — presenting your vision to an audience.
Why should you explain your vision to an audience? Because people like to dream things and a vision presentation makes it easier for them to imagine the future to-be state and aspire to it. In that sense, the goal of your presentation is to 'sell your vision' to the audience to make them vested in the same purpose as you do.
1. Set the Scene
Want to instantly set the right tone and capture the group's attention? Here's how you should start your presentation:
Open with a provocative statement
Use a bold number or curious statistics
Ask a "what if" question
After you've secured the attention, go on and set the scene. Explain why you feel that it's important to talk about your company's vision today and how you came about to formalize it.
2. Present a Solution Within Your Vision
Your aspirational idea may not immediately resonate with all the stakeholders. And that's okay. Some people need 'logical reasons' to be sold on some concept. So explain how your vision will help your company solve a particular problem in the market.
For example, in their vision statement, Lego says that they don't just sell toys. They strive for "the development of children's creativity through play and learning."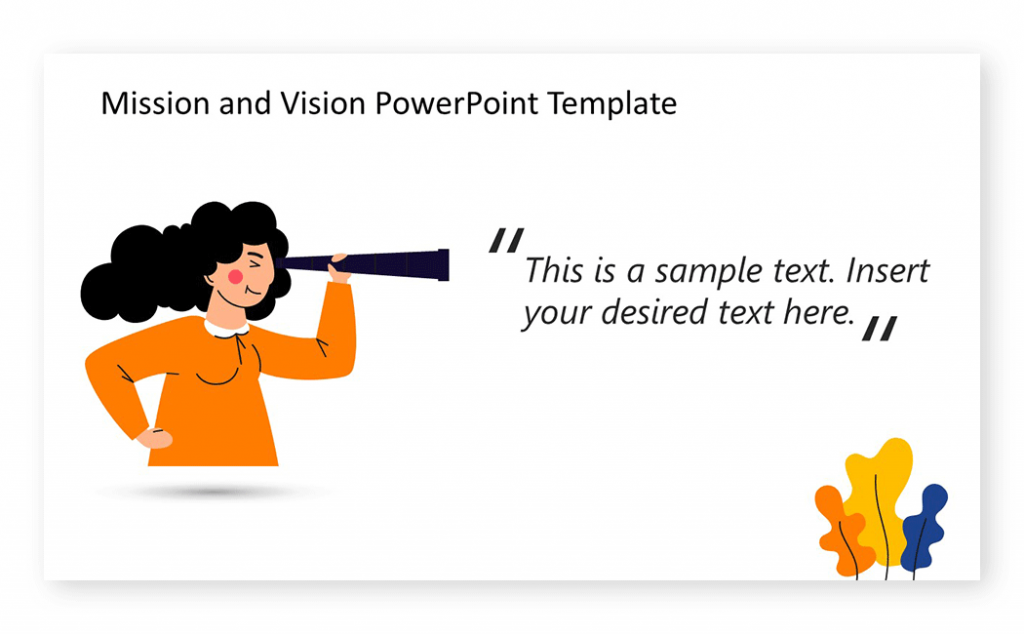 3. Explain How You'll Deliver on Your Goals
A vision statement denotes your key corporate goals and ambitions. But company stakeholders, especially investors, will wonder how you are going to hit those targets. Of course, you have a lot of other documents and policies, specifying that. But it's still worth briefly mentioning how you plan to act upon your vision.
In the Apple example, Tim Cook drew attention to the fact that Apple planned to stay in control of their primary tech and focus on high-impact markets to reach their goals.
4. Sum Up By Sharing Your Current Priorities
To conclude the visionary part of your presentation and transition to talking about the company's mission and current plans, state what you plan to start doing today to reach the stated aspirations.
Explain:
How do you plan to usher growth?
What organizational changes you are planning to pursue?
Which new channels do you plan to explore for business development?
Provide the audience with concrete examples, so that they leave the presentation with a solid understanding of where your company's moving, how you plan to get there, and what action is required from them at this stage.